The Film
It is April in Tokyo and spring has arrived — cherry blossoms sweep across the country, bursting into their short, magnificent lives in one of nature's finest festivals. With Hanami as the backdrop, international violinist Sayaka Shoji returns to her homeland to lead young violin students through Vivaldi's Spring Concerto. We share in their delight and surprise as they endeavor to relate the stories in this 300-year-old Italian music with their own modern Japanese experience.
At the height of an Australian summer, Niki Vasilakis travels 3000 kilometres from her home in the far south, by train, car, boat, and plane, towards Australia's northernmost town. Traversing the dry, red heart of the continent into the intense, wet season of the north, the gift of music is exchanged across cultures within this vast land. The tension in waiting for the relief of rain mirrors the music of the Summer Concerto, which drives this section with unstoppable force.
As autumn dresses New York with her vibrant colors, a group of friends reunite at an old haunt near Central Park. Cho-Liang "Jimmy" Lin, a performer of great spirit, is the ring leader of this motley group, a rich cultural melting pot of musicians who chose to make New York their home many years ago. The energy and humor of these people is infectious, and driven by the music of the Autumn Concerto, we experience their city, past, present, and future through their intimate tales of this extraordinary place.
Now it is winter, and in the furthest reaches of Finnish Lapland, Pekka Kuusisto and his musicians travel through the ice and dark to the home of an old family friend, to perform the Winter Concerto in a neighborhood concert. Here, far above the Arctic Circle, we reach the end of our international journey. In this remarkable landscape we celebrate the warmth and hope the language of music gives all of us.
The Filmmakers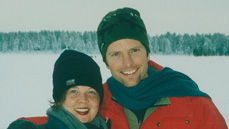 Timothy Slade

Director

Joanna Buggy

Producer