The Film
45365 explores the congruities of daily life in an American town – Sidney, Ohio. Through a patient and inquisitive look at the lives and landscapes that make up this community of 20,000 people, it captures the complexities and ambiguities of their shared experience. Conclusions are left to the audience as the component characters speak and act for themselves, as themselves. These storylines eventually coalesce into a mosaic of faces, places, and events. It is an inquisitive look at everyday life in middle America.
Set against the quaint and familiar backdrop of small-town western Ohio, this is a film about the inner workings of a community and the ways in which its people interact and socialize. From the patrol car to the courtroom, the playground to the nursing home, the parade to the prayer service, it explores their relationships and interactions with each other and their environment. Father and son, boyfriend and girlfriend, cop and criminal, officials and the electorate, patrons and providers — it is a portrait of the city and its people.
Devoid of direct interviews or staging, this film presents the residents of the town as they are in their daily lives.
Sidney is the small town experience. It is a community of schools and sports and factories and neighborhoods and familiarity. Sidney is not without social hierarchy or crime or any of the other concerns that are more often associated with more populated urban areas. They are just played out on a smaller stage. It is a microcosm of American life.
Filmed over the course of nine months by two men raised in that town — natives with an intrinsic knowledge of their community and a feel for the tides of the town — 45365 encapsulates the magnitude of small town America. Sidney and it's people offer themes that we can all relate to — no matter how geographically different our experiences.
The Filmmakers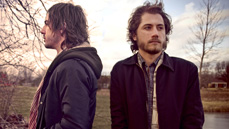 Bill Ross

Producer/Director

Turner Ross

Producer/Director