The Film
On a cold night in 1977 in Niigata, Japan, Sakie Yokota looked at the clock on her wall and noticed that it was getting late. Her eldest child, 13-year-old Megumi, hadn't yet returned home. Megumi usually walked straight home from school. Sakie panicked and ran to the school, but no one knew where her daughter was. For the entire night, Megumi's parents and her two younger brothers frantically searched the beach near their home. The police got involved and searched for weeks, but it led to nothing.
A year went by with no word. Five, ten, fifteen years passed. Finally, 20 years after Megumi's disappearance, a journalist knocked on the Yokotas' door and revealed something that shocked the family and the rest of Japan: Megumi had been abducted to North Korea. North Korean leader Kim Jong Il would later admit that Megumi and 12 other Japanese citizens had been kidnapped from the shores of Japan by North Korean spies.
Abduction: The Megumi Yokota Story begins the day Megumi disappears and follows her parents on their 30-year search to learn the truth about what happened. Initially considered wacky by some Japanese political commentators, and labeled liars by the North Korean government, the families of Megumi and others taken by North Korea had little support at the outset, forcing them to become ever more aggressive and determined. Their stubborn refusal to give up eventually won them public support.
Executive produced by Oscar-winning director Jane Campion, Abduction is a tale of mystery, intrigue, and love, using archival footage and exclusive interviews to tell what happens when ordinary people are thrust into extraordinary circumstances.
The Filmmakers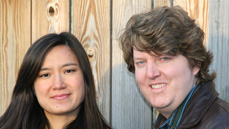 Chris Sheridan

Director

Patty Kim

Producer