The Film
Anatomy of a Springroll is an award-winning documentary that follows one man's journey to reconcile his Vietnamese roots with his current American life. In 1973, Paul Kwan's father bribed a customs official to allow the youngest of his 24 children to flee the political chaos that was Saigon. Now, living in San Francisco 20 years later, Kwan looks to the language of food to best reconcile his past.
From the colorful, food-filled streets of San Francisco's outdoor markets to the back streets of the Saigon he left years ago, Kwan seeks the secret ingredient to blend the traditions of his birth culture with his adopted American life. He discovers, however, that the real secret is his 73-year-old mother and her belief that to understand a culture, one must first learn the language of its food.
When the death of his father brings Kwan back to Saigon, a flood of memories greet him. Although the city has changed, the sweet rice of his childhood provides a familiar welcome. Anatomy of a Springroll is a visual feast celebrating the ability of food to capture a culture's tradition and to comfort its generations.
Collaborators Kwan and Iger combine fantasy and documentary by mixing food-as-metaphor with humorous family footage, animation, puppetry, history, and performance.
The Filmmakers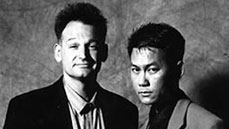 Paul Kwan

Producer

Arnold Iger

Producer
Paul Kwan and Arnold Iger are co-artistic directors and producers of the trilogy made up of A Wok-in-Progress, Anatomy of a Springroll, and Pins and Noodles, shown nationally in film festivals and on public television. Through their company, Persona Grata Productions, they have created and performed experimental work for the stage and screen in the San Francisco Bay Area for 20 years. Kwan and Iger's work has integrated their talents in mediums ranging from collage and painting to poetry and video documentary. Kwan and Iger collaborate with visual, musical, and other artists in search of new forms of expression.