The Film
As Goes Janesville is a verité documentary that records two years in the lives of laid-off workers, business leaders, and elected officials all trying to reinvent their lives and their midwestern town amid the closure of their GM plant and America's worst economic crisis since the Great Depression. The story begins shortly after the factory closed in 2008 and continues through a standoff between the newly elected governor and 14 Democratic state senators, one of whom is a main character in the film.
The film also follows Cindy Deegan, a factory worker going back to school to train for a non-union job that pays a third of her former wage — a job she must land before unemployment benefits expire. Gayle Listenbee and Angie Hodges both leave family behind to follow their union jobs with GM plants to other states. The film goes behind the scenes with business leader Mary Willmer-Sheedy as she co-chairs a private economic development initiative that is supported by the governor in an effort to woo companies to town. We also see the crisis through the eyes of Tim Cullen from the moment he first tries to persuade GM to return to town until he is elected to the state Senate as a Democrat and eventually, flees the state to stop the governor's anti-union initiatives.
Both a microcosm of America's economic crisis and a deep immersion in the country's tug-of-war over labor relations, As Goes Janesville offers critical insight and heart wrenching humanity as the United States enters an election season that has already engulfed the nation in an inflamed and polarizing fight over how we should realize the American Dream, if we can realize it all.
The Filmmaker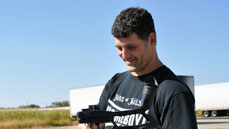 Brad Lichtenstein

Producer/Director