The Film
In the mid-1920s, thousands of immigrant Jewish garment workers catapulted themselves out of the urban slums and ghettos by pooling their resources and building cooperatively owned and run apartment complexes in the Bronx. Adjacent to the newly opened subway corridor and in the midst of empty fields, they constructed the United Workers Cooperative Colony, a.k.a. "the Coops," where they practiced the utopian ideals of an equitable and just society. At Home in Utopia captures their epic struggle across two generations as the Coops residents experiment with breaking down barriers of race and ethnicity, and championing radical ideas that would someday transform the American workplace.
Three other large communities — the Amalgamated Houses, built by the Amalgamated Clothing Workers Union; the Sholem Aleichem Houses, built by Yiddishists; and the Farband Houses, built by Labor Zionists — were located near the Coops. But the Coops was the most grassroots and member-driven of the Jewish labor housing cooperatives, with many of the residents practicing — and proselytizing — communists.
As a community, the Coops gave its residents everything they'd ever dreamed possible in their adopted country — green spaces for gardens; sports and children's play areas; community spaces for meetings, dances, and recreation; dozens of clubs that flourished; a library with 20,000 volumes in Yiddish, Russian, and English; and, most of all, the sense that they lived on the cutting edge of progressive reforms that would inevitably sweep the nation. As part of this agenda, the Coops invited African American families into the complex, fostering lifetime friendships — and even interracial marriage.
When the Great Depression slammed into their dreams, residents of the Coops took to the streets, demanding (and getting) mortgage relief not only for themselves, but also for neighboring housing complexes. They demonstrated for better conditions for American workers, and for unemployment insurance. They believed they were watching the death of capitalism, and in its death throes, they saw an opportunity for communism to fill the gap. And, when their ideas took root, with 24 states passing mortgage relief laws and unemployment insurance becoming the norm, it seemed that their utopian society might be just around the corner for all Americans.
But after World War II, amidst growing anti-communist sentiment and McCarthyism, their utopian dreams began to unravel. Then in 1956, when Soviet Premier Khrushchev revealed atrocities committed by Josef Stalin, many residents abandoned their communist-inspired ideals altogether.
Informed by a rich cache of archival photographs, home movie footage and interviews, At Home in Utopia tightly weaves together history, memory and the lives and landscapes changed forever by the Coops. Despite the plight of many American workers today, the film recalls a moment in time when an empowered and exalted American worker stood on the brink of being master of his fate, captain of his soul and at home, in a perfect world of his — and her — own making.
The Filmmakers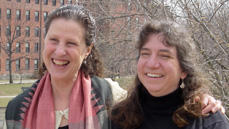 Michal Goldman

Producer/Director

Ellen Brodsky

Producer
In 1986, a group of independent film and video makers in and around Boston came together to form a nonprofit, filmmaker-run organization that would provide fiscal sponsorship for their work. Filmmakers Collaborative (FC) is committed to the production of films that address issues of social justice, and cultural, racial, historical, global, and artistic issues reflecting the diversity of the community and world around us.