The Film
Multinational coffee companies rule shopping malls and supermarkets, and dominate the $80-billion-plus coffee industry. But, while Americans continue to pay for luxury lattes and cappuccinos, the prices paid to coffee farmers remain so low that many have been forced to abandon their fields. Black Gold tells the complex story behind an attempt to make globalization work for the producers of the second most valuable traded commodity for developing countries in the world.
Nowhere is the disparity of the coffee industry more evident than in Ethiopia, the birthplace of coffee. Tadesse Meskela manages the Oromia Coffee Farmers Cooperative Union, representing more than 74,000 coffee farmers. The union buys coffee from 101 individual cooperatives, spread across southern Ethiopia. Black Gold follows Meskela on his mission to save struggling coffee farmers from bankruptcy. As his union's farmers strive to harvest some of the highest quality coffee beans on the international market, Meskela travels the world to find buyers willing to pay a fair price — a better price than the one set by the international commodities exchange.
Against the backdrop of Meskela's journey to London and Seattle, the film reveals the enormous power of the multinational players that dominate the world's coffee trade. Since the International Coffee Agreement — which regulated the supply of coffee on the world market — collapsed in 1989, the price paid to coffee farmers has fallen to a 30-year low. But in the same time period, retail sales from coffee have increased from $30 billion to $80 billion a year. Today, four multinational corporations dominate the global coffee market: Kraft, Nestle, Proctor & Gamble, and Sara Lee.
Black Gold exposes how New York City commodity traders, the international coffee exchanges, and the double dealings of trade ministers at the World Trade Organization all challenge Meskela in his quest for a long-term solution to pay coffee farmers a living wage.
The Filmmakers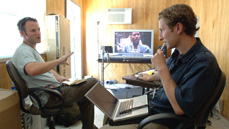 Nick Francis

Producer/Director

Marc Francis

Producer/Director
Marc Francis and Nick Francis are independent documentary filmmakers. They began their careers making short documentaries concerning social, global and human rights stories before developing feature-length productions for international audiences. Their past films include Nuke UK (2001). Their work has been supported by the Sundance Institute, the Channel 4 British Documentary Film Foundation, the UK Film Council, and the DocFactory.