The Film
The Black Power Mixtape 1967-1975 examines the evolution of the Black Power Movement in the African American community and Diaspora from 1967 to 1975. Combining startlingly fresh and candid 16mm footage that had lain undiscovered in the cellar of Swedish Television for the past 30 years, with contemporary audio interviews from leading African American artists, activists, musicians and scholars, Mixtape looks at the people, society, culture, and style that fuelled an era of convulsive change. Utilizing an innovative format that riffs on the popular 1970s mixtape format, The Black Power Mixtape 1967-1975 is a cinematic and musical journey into the black communities of America.
At the end of the '60s and into the early '70s, Swedish interest in the U.S. civil rights movement and the US anti-war movement peaked. With a combination of commitment and naiveté, Swedish filmmakers traveled across the Atlantic to explore the Black Power movement, which was being alternately ignored or portrayed in the U.S. media as a violent, nascent terrorist movement.
Despite the obstacles they encountered, both from the conservative white American power establishment and from radicalized ,ovement members themselves, the Swedish filmmakers stayed committed to their investigation, and ultimately formed bonds with key figures in the movement.
Filmmaker Göran Hugo Olsson brings this newly discovered footage to light and introduces it to a new generation across the world in a penetrating examination — through the lens of Swedish filmmakers — of the Black Power movement from 1967 to 1975, and its worldwide resonance. The result is like an anthropological treatise on an exotic civilization from the point of view of outsiders who approached their subject with no assumptions or biases.
The Filmmakers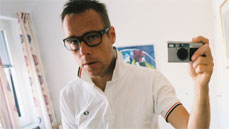 Goran Hugo Olsson

Director

Annika Rogell

Producer