The Film
In the late 1800s, Butte, Montana, was one of dozens of frontier mining towns that sprang up nationwide. The discovery of copper ore in Butte's mines coincided with the push to electrify America. Copper, prized for its conductivity, was needed in vast quantities — immediately.
Overnight, Butte became "the Richest Hill on Earth," the most lucrative copper mining region in the world. Known as the "Pittsburgh of the West," Butte's population swelled to 90,000. Miners from Ireland, Scandanavia, Eastern Europe, and the Philippines flooded in; rules in the mines were posted in 16 languages. A union protected wages, but miners still worked in perilous conditions, knowing each day could be their last. On Sundays, when the church bells pealed for that week's mineshaft victims, all of Butte mourned as one.
In 1917, Butte became home to the worst hard rock mining disaster in U.S. history — the Granite Mountain fire took the lives of 168 men. Battles mounted over working conditions, sparking some of the most violent labor confrontations the country had ever seen. Meanwhile, the very land they lived and worked on was being turned into a toxic waste dump.
Their lives and livelihood subject to the wills of powerful and anonymous forces, Butte's patchwork of working-class neighborhoods melded into one — a tough, vital, and united community forged in a copper crucible.
The Filmmaker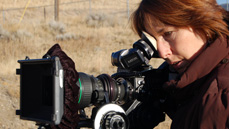 Pamela Roberts

Producer
Pamela Roberts came to filmmaking as a social issue medium, after graduating with honors from the University of Southern California with a master's in social work. In 1982, Roberts co-founded Rattlesnake Productions, Inc., and over the past 26 years she has produced and directed a number of award-winning documentary films and videos for public television, as well as for national and international theatrical and video distribution.