The Film
The Calling is a four-hour documentary series that follows seven Muslims, Catholics, Evangelical Christians, and Jews on a dramatic journey — training to become professional clergy. Embarking on life paths that demand tremendous personal sacrifice and commitment, these seminarians must uphold timeless truths in an era that values quick fixes and hot trends, and face a public that challenges the very relevance of their mission. A new look at an old job, The Calling takes viewers into the unknown world of seminaries to tell entertaining and compelling personal stories of how faith is lived today.
The Calling intercuts its characters' stories from their first days of training, through years of study, and into their early practice as religious professionals. We follow them within and beyond the walls of their schools, confronting the sacrifices they've made to pursue this path. We see them debate theology and philosophy, learn to deliver sermons, perform their first weddings and funerals, and counsel people in crisis. We also experience them as young people at the crossroads of their lives, struggling with dating, partners, family, and other challenges of "coming of age."
These young people are charismatic and real, driven and self-reflective, confident and humble. They are seeking to reconcile the modern world and their faith through music and activism; balancing their egos and their desire to serve and blazing new paths to leadership while conserving age-old traditions.
The United States is one of the most religiously observant and spiritually diverse countries in the world, yet mainstream media has surprisingly underrepresented the significance of faith in our lives, and our pluralism has been explored almost exclusively in terms of race and culture. Documentaries that have been produced on faith often focus on single faiths, church scandals, fundamentalist extremists, or religion's polarizing effect on society. The Calling underscores our spiritual common ground and offers intimate portraits that provide a fresh, nuanced portrayal of faith in America.
The Filmmaker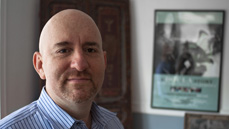 Danny Alpert

Series Director/Executive Producer