The Film
1972 was an extraordinary year. Richard Nixon was president, running for his second, ill-fated term. The voting age had just changed from 21 to 18, and millions of new voters were expected at the polls. The Vietnam War was in full swing, as were anti-war protests, a burgeoning women's movement, and the rise of the Black Panther Party. Into the center of this maelstrom — shocking the conventional political wisdom — stepped Shirley Chisholm, a determined, rather prim and unapologetically liberal black woman with a powerful message: Exercise the full measure of your citizenship and vote.
Announcing her candidacy for president on the evening news, Walter Cronkite quipped, "A new hat — rather a bonnet — was tossed into the presidential race today." As revealed in Chisholm '72 — Unbought & Unbossed, a feature documentary having its world broadcast premiere on public television's POV series, this first-ever run by a woman and person of color for presidential nomination was no laughing matter. Nor was it a polite exercise in symbolic electioneering. The New York Democratic congresswoman's bid engendered strong, and sometimes bigoted opposition, setting off currents that affect American politics and social perceptions to this day. Shirley Chisholm died at the age of 80 on January 1, 2005, at her home in Florida.
Chisholm '72 recaptures the times and spirit of a watershed event in American politics, when a black woman dared to take an equal place on the presidential dais.
"Our goal was to make a documentary as passionate and powerful as Chisholm herself," says director and co-producer Shola Lynch. "Her story is an important reminder of the power of a dedicated individual to make a difference." It also reminds us that the country belongs to each of us only if we dare to claim our place in it.
The Filmmakers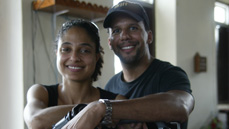 Shola Lynch

Producer

Phil Bertelsen

Producer