The Film
Located in the northeast corner of Oklahoma, the town of Picher was once home to the world's richest lead and zinc mining field. But since the area was declared a Superfund site in 1981, Picher's residents have been forced to choose between preserving their image of the American dream and preserving their health. The Creek Runs Red journeys into the heart of a sharply divided community to reveal an array of human reactions to an environmental disaster.
After decades of mining, towering piles of mine waste covered 25,000 acres, devastating Quapaw tribal lands and local economies. Acid mine water burned nearby Tar Creek and stained it red. Despite these environmental hazards, many people in Picher desperately wished to stay and revitalize their town.
But when an alarmingly high percentage of local children were found to have toxic levels of lead in their blood, a committee was quickly formed to relocate the town. Property values plummeted and the EPA arrived to replace tainted soil in yards. Some residents resented what they saw as an invasive presence by the federal government in one of the state's poorest counties. Meanwhile, others wondered if the environment might also be to blame for high rates of cancer and other diseases.
The Creek Runs Red is an emotionally stirring and intimate portrait of a small town struggling to determine its future in light of its past.
The Filmmakers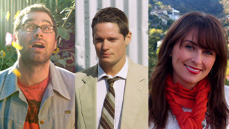 Julianna Brannum

Producer/Director

Bradley Beesley

Director

James Payne

Director