The Film
Daddy & Papa is a documentary that explores the personal, cultural, and political ramifications of the growing number of gay men who are making a decision that is at once traditional and revolutionary: to become dads. Taking viewers inside four gay male families, Daddy & Papa explores the many unique issues that these families face: the ambiguous place of interracial families in America; the wonder and precariousness of surrogacy and adoption; the complexities of marriage and divorce within the gay community; and the legality of gay parenthood. Daddy & Papa also explores the ways that these families resemble others as the dads take on the daily joys and struggles of raising healthy and happy children.
Gay men become parents through various routes — including independent adoptions, surrogacy situations, and co-parenting arrangements with women. But an increasing number are choosing to adopt through the foster care system, and several of these stories are highlighted in the film. Statistics report that more than 500,000 children are currently in foster care and more than 100,000 are awaiting adoption. The majority of these are children of color, who the system refers to as "hard to place." Gay men are offering many of these children the chance to have permanent homes.
In addition to the hard work of parenting, gay dads face many additional challenges: conservatives who regard them as the very antithesis of family; antipathy from parts of the gay community, where hard-won independence and sexual freedoms can often clash with the full-time demands of parenting; and discrimination from the law. In 2000, Utah and Mississippi joined Florida in banning gay adoption. And with similar legislation pending in other states, the attack on gay parental rights is steadily growing.
Through interviews, on-location shooting around the country, archival footage and photos and the personal narrative of the filmmaker's own journey to fatherhood, including the adoptions of both of his children, the film provides a rare inside view of this growing phenomenon. From the playground to the courtroom, Daddy & Papa uncovers the struggles, challenges and triumphs of gay fathers and their children — bringing to light a new kind of American family.
The Filmmaker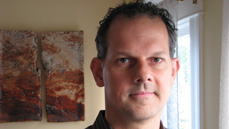 Johnny Symons

Producer