The Film
Daughter from Danang is a riveting emotional drama of longing, identity, and the personal legacy of war. To all outward appearances, Heidi is the proverbial "all-American girl," hailing from small town Pulaski, Tenn. But her birth name was Mai Thi Hiep. Born in Danang, Vietnam in 1968, she's the mixed-race daughter of an American serviceman and a Vietnamese woman. Fearing for her daughter's safety at the war's end, Hiep's mother sent her to the U.S. on "Operation Babylift," a Ford administration plan to relocate orphans and mixed-race children to the U.S. for adoption before they fell victim to a frighteningly uncertain future in Vietnam after the Americans pulled out. Mother and daughter would know nothing about each other for 22 years.
Now, as if by a miracle, they are reunited in Danang. But what seems like the cue for a happy ending is anything but. Heidi and her Vietnamese relatives find themselves caught in a confusing clash of cultures and at the mercy of conflicting emotions that will change their lives forever. Through intimate and sometimes excruciating moments, Daughter from Danang profoundly shows how wide the chasms of cultural difference and how deep the wounds of war can run — even within one family.
The Filmmakers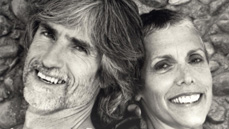 Gail Dolgin

Producer

Vicente Franco

Producer
Gail Dolgin and Vicente Franco have been collaborating on film projects for almost 20 years. They both live and work in the San Francisco Bay Area although Gail is originally from New York and Vicente from Spain. Their first feature length documentary Cuba Va: The Challenge of the Next Generation, premiered at the Sundance Film Festival in 1993 and was broadcast on KQED. Their next major collaboration, Daughter from Danang, aired on American Experience in 1997. The film won the 2002 Grand Jury Prize for Best Documentary, and was nominated for an Academy Award. Their film The Summer of Love, aired on PBS in the spring of 2007.