The Film
Filmmaker Judy Lieff chronicles a journey of self-realization for deaf teen Aneta Brodski, as she reveals her passions, frustrations, and sense of humor through her exploration of American Sign Language poetry. Unique among her deaf high school friends, Aneta longs to fully participate in the hearing world. Her artistry evolves within her ASL poetry group, and eventually she decides to compete in a spoken word poetry slam.
With ties to rap and hip hop culture, the U.S. National Poetry Slams for youth are widespread, but Aneta is among the first deaf teens to brave that highly verbal arena. The film captures her experiences as she conveys her inner self to hearing audiences.
In a remarkable twist of fate, Aneta, a deaf Israeli, meets and then collaborates with Tahani — a hearing Palestinian slam poet. They create a hearing/deaf duet touching on their shared personal and cultural experiences — generating a new form of slam poetry that speaks to both the hearing and the deaf.
Deaf Jam utilizes innovative techniques to convey the beauty of sign language poetry to hearing audiences. It is a three dimensional language that exists, like dance, in space. In the hands of a talented poet, shapes in relation to one another create the visually stunning equivalents of rhythm and rhyme.
Deaf Jam is a celebration of the beauty and power of American Sign Language poetry, a unique and endangered art form.
The Filmmakers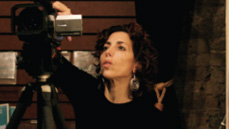 Judy Lieff

Producer/Director

Steve Zeitlin

Co-Producer