The Film
Deep in the Appalachian mountains of eastern Kentucky, Beverly May and Terry Ratliff find themselves at the center of a contentious community battle over a proposed mountaintop removal coal mine.

Deep Down puts a human face on the consequences of our environmental impact.
Any exploration of power production in America will lead to Appalachia, a region that has supplied our nation with coal for over a century. As America's energy consumption rises, the extraction and burning of coal to meet these demands has dramatically altered the Appalachian landscape, economy, and culture. Mountaintop removal mining has stripped swaths of the ancient hills down into barren, flat-topped environmental catastrophes.
Coal is the number one industry here, with an enormous influence on local economies and people. Simultaneously, Appalachia as a region deserves our attention as a place of history, complexity, and change. It is time for us to look back to this "forgotten" region. We must trace the power lines from our homes to people far removed from our daily lives.
The Filmmakers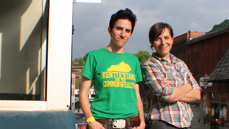 Sally Rubin

Producer/Director

Jennifer Gilomen

Producer/Director

David Sutherland

Producer