The Film
In 1974, the New York City music scene was shocked into consciousness by the violently new sound of a band from Queens: The Ramones. Playing in a seedy Bowery bar to a small group of fellow struggling musicians, the band struck a chord of disharmony that rocked the foundation of the placid mid-1970s music scene. Tracing the history of the band over three decades, End of the Century is a vibrant, candid document of one of the most influential groups in the history of rock.
Although The Ramones never reached the top of the Billboard charts, they managed to endure interpersonal conflicts and fleeting successes by maintaining a rigorous touring schedule for more than 20 years. End of the Century begins at the end of the band's career, with their 2002 induction into the Rock and Roll Hall of Fame.
On July 4, 1976, the Ramones invaded the U.K. and inspired the nascent British punk rock scene. Members of The Clash, The Sex Pistols, The Damned and Chrissy Hynde appeared at their first gig. The Ramones blitzed London, yet returned to the U.S. to mass indifference, despite inspiring countless bands with albums such as Rocket to Russia (1977) and Road to Ruin (1978).
But disagreements and the stress of touring took its toll: Tommy — drummer, producer and one of the founders — left. The band was never the same. Johnny and Joey engaged in a power struggle over the band's future, and Joey's girlfriend left him for Johnny. Although the two men continued to tour together for years, they never spoke again.
Featuring interviews with all of the band members as well as musicians such as Deborah Harry, the late Joe Strummer, and Eddie Vedder, End of the Century follows The Ramones through the 1980s, when touring continued to be the band's sole source of income and the band cycled through new members Marky, C.J., and Ritchie. Although the band's legacy includes such sad events as the premature deaths of Joey, Dee Dee and Johnny, The Ramones' influence on more than two generations of rock music is undeniable. As music journalist Legs McNeil says in the film, "The Ramones saved rock and roll."
The Filmmakers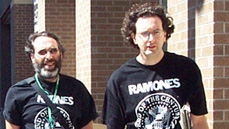 Jim Fields

Producer

Michael Gramaglia

Producer