The Film
Growing up, filmmaker Theresa Loong knew that her father, Paul Loong, was older than most of her friends' parents. Father and daughter are almost 50 years apart in age. Throughout her youth and young adulthood, Theresa recalls a cheerful father who loved to laugh and play pranks on his kids. But underneath all that laughter, he would show occasional flashes of anger and sadness.
One day young Theresa asked him innocently about a curious scar on his back. "Everyone has secrets," he would say.
She knew this much: His road to becoming an American citizen was anything but direct. As a Chinese Malaysian teenager serving in the British Royal Air Force, he spent three years at hard labor as a prisoner of war in Japan. But it wasn't until Theresa uncovered a hidden diary her father kept while imprisoned, that she uncovered other family secrets.
At 88 years old, Paul is commemorating his 66th year of freedom. The film draws upon his experiences to explore contemporary issues of war, immigration, and national identity. It celebrates the freedom that comes with confronting the past and facing the future with resilience, forgiveness, and love.
The Filmmakers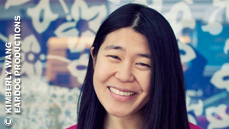 Theresa Loong

Producer/Director

Bill Einreinhofer

Executive Producer