The Film
Fair Play is a one-hour documentary about the production of a play and the journey of the actors whose own lives are in conflict with the characters they portray.
At The Grange in Gloucestershire England, 80 people live and work together. Half are adults with learning disabilities. The community launched a program to stage plays; last year they toured the country with Oscar Wilde's The Importance of being Earnest. This year they are tackling a play with a far more serious and controversial theme — abortion.
Playwright Claire Luckham wrote the highly acclaimed play, The Choice, as a way of exploring her relationship with her elder brother Ben, who has Down Syndrome, and her own feelings about abortion. Ben has lived and worked at The Grange for the past 40 years.
When Luckham wrote the play in 1992, the commissioning director would not accept a script incorporating a character with Down Syndrome, so Luckham had to rewrite the entire play to omit disabled characters. Fifteen later, The Grange's theater director Teo Gwynn Evans and filmmaker David Herman decide to restage the play. This time, four of the five actors are adults with learning disabilities, and the part of playwright Luckham is portrayed by Katherine, a 25-year-old woman with Down Syndrome. Still, none of the characters these actors play is disabled.
"I wish I wasn't Down Syndrome. I wish I was normal like my sister. She can drive a car," says Katherine. Contemplating the position she's in, portraying a character in a play in which a fetus is aborted because a prenatal test indicates Down Syndrome, she says, "My mother will be very proud of me." Katherine's father wanted her aborted.
The Filmmaker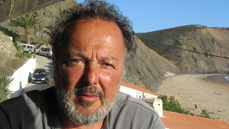 David Herman

Producer/Director