The Film
From the late acclaimed Hawaiian filmmaker Kayo Hatta comes Fishbowl, a vivid and funny account of growing up in Hawaii in the 1970s — when life was anything but "paradise." Adapted from Lois-Ann Yamanaka's first novel, Wild Meat and the Bully Burgers, Fishbowl brings the book to life in authentic Hawaiian style.
As an outsider with an overactive imagination, Lovey Nariyoshi (Mie Omori) is regularly bullied into silence by her nemesis, the smart and seemingly perfect Lori Shigemura (Jordan Mukai), the head of a popular girls clique, The Rays of the Rising Dawn. Rather than fight back, Lovey is prone to escape into fantasy where she turns into the bold and courageous girl that she wishes she could be.
Her best friend is Jerry (Billy Lam), an effeminate boy whose dream is to become an honorary Ray of the Rising Dawn. Rather than sticking by Lovey, he abandons her in a weak moment and tries to entertain Lori and the Rays. The story tests their friendship, and confronts the challenges of adolescence and finding a true identity when you'd rather be anyone but yourself.
The Filmmakers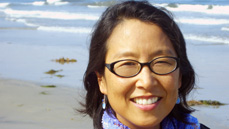 Kayo Hatta

Producer

Linda Barry

Producer

Eleanor Nakama-Mitsunaga

Producer