The Film
Using fantastic elements from the Mexican and Latin American comic book tradition, everyday reality is woven with magical realism in four original half-hour dramas.
"Seeing Through Walls" follows the transformation of a prison inmate turned volunteer guinea pig when a prototype microchip is implanted in his brain. Suddenly, he has access to a wealth of knowledge — and a new understanding.
"In the Mirror" is the haunting tale of a family's encounter with a mirror bequeathed by a deceased aunt. Once hung, the mirror becomes a window to the other side, a place magically inhabited by the family's dead relatives. It also casts a spell on a daughter seeking sanctuary from a recent tragedy.
In "Mangas", a Costa Rican orphan is adopted by an American family. Isolated in a new home, the boy's loneliness prompts his magical stuffed monkey to transform his suburban bedroom into a magical rainforest. But can this magic world stay confined to a single room?
In "The Fix" a once-talented boxer who threw away his promise now takes dives for chump change. During a particularly brutal bout he sees a "calavera" — a Mexican death figure. Sensing his death to be imminent, he accepts his final fight and then races to reconcile with the loved ones he has disappointed.
The Filmmaker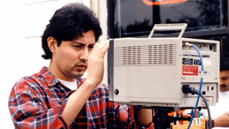 Carlos Avila

Producer