The Film
On the lonely roads of Winston-Salem, North Carolina, two men forge an improbable friendship that will change both of their lives forever.
Solo is a Senegalese cab driver working to provide a better life for his young family. William is a tough, Southern good old boy with a lifetime of regrets. One man's American dream is just beginning, while the other's is quickly winding down. But despite their differences, both men soon realize they need each other more than either is willing to admit. Through this unlikely but unforgettable friendship, Goodbye Solo deftly explores the passing of a generation, as well as the rapidly changing face of America.
Solo, a Senegalese taxi driver in Winston-Salem, North Carolina, is hired by William, a gruff, 70-year-old, white Southerner, to drive him to a nearby mountaintop in two weeks. Solo soon comes to understand William's plan, and makes one of his own — to befriend the stubborn old man and try to change his mind.
The Filmmakers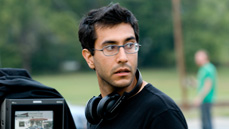 Ramin Bahrani

Producer/Director

Jason Orans

Producer