The Film
Grey Gardens, the Tony award-winning Broadway musical, was developed three decades after the Maysles film of the same name debuted. The musical is the ultimate homage to the quirky and rebellious Beales. Edith Beale and her daughter Edie turned their backs on their upbringing, public opinion, and polite society to pursue their artistic dreams in the sometimes humorous, sometimes heartbreaking, and always sentimental fantasy world they shared together.
The fragile yet resilient mother-daughter duo struck a chord with composer Scott Frankel, who brought their story to the Broadway stage. He experienced Big Edie and Little Edie's struggle to express their creativity as a mirror image of his own creative process as a Broadway composer. Grey Gardens: From East Hampton to Broadway exposes the many facets of this artistic journey, following the creators, including lyricist Michael Korie and dramatist Doug Wright, as they eventually succeed in breathing life into the production.
Grey Gardens: From East Hampton to Broadway picks up the thread of this compelling mother-daughter story, weaving together clips from the Maysles brothers' film with insightful interviews featuring Albert Maysles, societal and cultural commentators and the creators of the Broadway show. The documentary is a backstage pass into the creative process that brought one of America's most haunted and haunting families from an original cult movie to the Great White Way.
The Filmmakers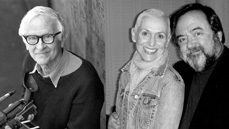 Kelly Gonda

Producer

Albert Maysles

Co-Producer