The Film
Filmmaker Christen Marquez's fiull name is Christen Hepuakoamana'a ekapunokamalie -o- nonali'iemekahanohano amauana'ia Marquez. After nearly 20 years of living in the continental U.S. she returns to Hawai'i to learn the meaning of the name.
In Hawai'i culture, parents don't give a name, they haku inoa. Haku means to weave, and inoa is the Hawaiian word for name. In traditional Hawaiian culture a name is considered a sacred extension of a person's identity. Words are artfully woven together like the fronds in a moena (pandanus leaf mat) to create a poem that tells the namesake's heritage and destiny.
Marquez's mother Elena created her name and is the only person who knows its true meaning. But Elena was diagnosed with schizophrenia more than 20 years ago, and has a history of being physically abusive. Marquez's relationship with her mother suffered because of the illness, and her years away from the islands eroded her knowledge of Native Hawaiian culture is meager.
As Marquez doggedly pursues this piece of her identity, she reconnects with her mother and struggles through the fights and misunderstandings to unlock the mystery of her own name.
The Filmmaker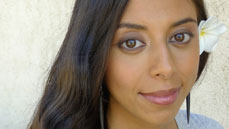 Christen Hepuakoamana'a Marquez

Producer/Director