The Film
Odds are that if you go to prison and are lucky enough to get out, you'll be going back sooner or later. Before Julio Medina was incarcerated, he was a drug-dealing gang leader who had narrowly missed death countless times. Twelve years later, upon his release from prison, Julio has committed himself to being a different kind of leader — helping people live, instead of making people die.
He created Exodus Transitional Community, a program in New York City's East Harlem dedicated to breaking the cycle of incarceration, particularly among people of color in New York.
Hard Road Home begins as 21-year-old Griffik Negroni wanders the streets looking for a path that won't lead him back to jail. His face is rough, cut up, and fierce. When he gets to Exodus, he is received with warmth and realism. In Griffik's angry eyes, the Exodus caseworkers see versions of themselves when they were young.
The people portrayed in Hard Road Home aspire to freedom and security "on the outside" while grappling with the constant challenges posed by poverty, addiction, peer pressure, suspicion, family, rage, despair, and the desire to escape. The film illustrates the seemingly insurmountable effort and amount of energy, resources, and strength of character required to change the fate of just one person.
The Filmmakers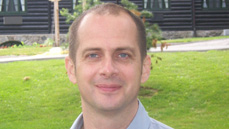 Selina Lewis

Producer/Director

Macky Alston

Director