The Film
Heart of the Sea is a portrait of Rell "Kapolioka'ehukai" Sunn, who died in January 1998 of breast cancer at the age of 47. Known worldwide as a pioneer of women's professional surfing, at home in Hawaii, Rell achieved the stature of an icon — not only for her physical power, grace, and luminous beauty, but for her leadership in a community that loved her as much as she loved it.
Rell Sunn grew up on the beach in Oahu near Makaha point. Her grandmother gave her the middle name Kapolioka'ehukai, which means "heart of the sea." Rell was Hawaii's number one female amateur surfer for five years. In 1975, she co-founded the Women's International Surfing Association (WISA), and four years later collaborated on Women's Pro Surfing (WPS). In 1982 Sunn was ranked number one in the world on longboard.
Rell lived her entire life in Makaha, a beach town troubled by crime, drug abuse, and high teen pregnancy and school dropout rates. Rell was a community organizer and activist for at-risk youth, and for the preservation of the natural beauty and cultural traditions of her native Hawaii.
At the peak of her career, at the age of 32, Rell was diagnosed with breast cancer. With no family history of the disease, Rell discovered that Native Hawaiian and Pacific Islander women have the highest incidence of breast cancer of all women in the United States. When she realized that detection and prevention programs were seriously underfunded, Rell became a community educator and activist for breast cancer awareness and for the protection of the environment from the toxins she believed had caused her disease. Rell was also a board member of the Surfrider Foundation, an organization devoted to preserving the ocean environment, and served as Hawaii's surfing ambassador for more than 30 years. She died at age 47.
The Filmmakers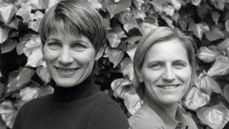 Charlotte Lagarde

Producer/Director

Lisa Denker

Director