The Film
We live in a media-saturated environment that exposes us to a daily stream of visual information, and the typography that shapes these visual messages can determine how we respond. Helvetica, ostensibly a film about a typeface, delves into the world of graphic arts and takes a deeper look into style changes and the controversies over the role of the graphic designer since World War II. Filmmaker Gary Hustwit explores urban spaces and the typefaces that inhabit them, speaking with renowned historians and designers about the choices and aesthetics behind the use of certain fonts.
The Helvetica font was developed by Max Miedinger with Edüard Hoffmann in 1957 for the Haas Type Foundry in Münchenstein, Switzerland and quickly became an international hit in the graphic arts world. With its clean, smooth lines, it reflected a modern look that many designers were seeking. At a time when many European countries were recovering from the ravages of war, Helvetica presented a way to express newness and modernity. Once it caught on, the typeface began to be used extensively in signage, in package labeling, in poster art, in advertising—in short, everywhere. Inclusion of the font in home computer systems, such as the Apple Macintosh in 1984, only further cemented its ubiquity.
Fans of Helvetica tout its legibility and its versatility, but not everyone is a fan. Some designers find Helvetica to be predictable and boring.
Interviewees in Helvetica include some of the most illustrious and innovative names in the design world, such as Erik Spiekermann, Matthew Carter, Massimo Vignelli, Wim Crouwel, Hermann Zapf, Neville Brody, Michael Bierut, Paula Scher, Tobias Frere-Jones, Bruno Steinert, Leslie Savan, Rick Poynor, and Lars Müller.
The Filmmaker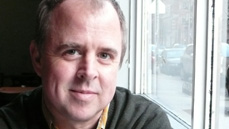 Gary Hustwit

Director