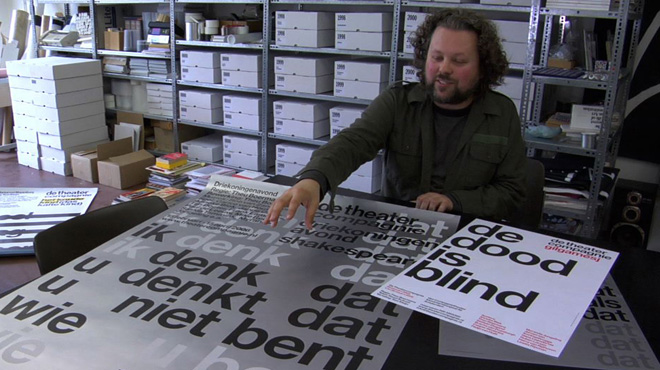 ITVS is proud to support Helvetica with engagement and education materials in support of its national broadcast.
Free Resources and Materials
Helvetica was featured in ITVS's landmark Community Cinema program, which produced community outreach screenings in 45 cities during December 2008. All screenings were conducted between 10 and 60 days prior to the film's scheduled national broadcast on Independent Lens. Post-screening discussions focused on the vital role that graphic design and typography play in our daily lives, and audience members walked away with a new appreciation for and view on their surrounding world. Helvetica screenings welcomed 3,000 community members to events across the nation, and included panel discussions with local designers, city planners, and arts and media educators.
In Los Angeles, the screening at the Pacific Design Center served as a platform to showcase the work of students at the Design High School of Los Angeles; students were charged with developing campaign posters for fictionalized social movements using typeface as a key design element. In Washington, DC, the audience discussed the effectiveness of and the effectiveness of the graphic design used in the 2008 presidential campaign. And in Nashville, an all-ages audience had the opportunity to participate in hands-on printmaking demonstrations. ITVS produced companion discussion guides to support the screenings and for use by viewers at home; more than 10,000 were downloaded or distributed. More than 50 community-based and national organizations partnered with ITVS to engage audiences with this film.