The Film
He was a postal clerk. She was a librarian. With modest means, this couple managed to build one of the most important modern art collections in history. Meet Herbert and Dorothy Vogel, whose shared passion and commitment defied stereotypes and redefined what it means to be an art collector. Herb and Dorothy is an Independent Lens selection.
The Filmmaker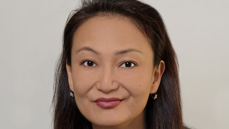 Megumi Sasaki

Director
Originally a freelance journalist, Megumi Sasaki joined NHK In 1992, serving as anchor, news director, and reporter for Ohayo Nippon, a popular morning news program. In 1996, she returned to independent work as a freelance television documentary news director and field producer, developing programs for Japan's premiere documentary series, NHK Special, and for commercial networks including TBS, Nippon Television, and TV Tokyo.
In 2002, Sasaki founded Fine Line Media, combining her commitments to Japanese TV with her new interest in feature documentary projects. Herb & Dorothy is her first independent film.