The Film
Using photo-montage recreations, interviews, animation, original field footage, and recordings, Herskovits at the Heart of Blackness examines the forgotten legacy of Melville Herskovits, a Jewish-American anthropologist who broke new ground in the definition and analysis of African-American culture. In the film, intellectuals and historians discuss the vast impact and heated debate Herskovits continues to inspire around our modern perception of race and cultural identity.
Herskovits was the first prominent white intellectual to declare that black culture in America was "not pathological," but rather inherently African, and that it had to be viewed within that context. In positing this, he established himself among the anthropological vanguard in applying the principles of cultural relativism to ethnic cultures within the United States.
Herskovits's academic work advanced the cause of ethnic equality in the United States, while also setting off a whirlwind of debate about race and identity. Some black leaders worried that Herskovits's work might be a kind of intellectual colonialism, and that if African-Americans allowed a white man to define and record their identity, it would lead to further exploitation. Could, or should, a white man have the last word on the origins of a culture to which he didn't even belong?
The filmmakers present Herskovits at the Heart of Blackness as an invitation to a deeper civic discussion about who has the right to define someone else's identity, and what it means when the people being defined are excluded from the conversation.
The Filmmakers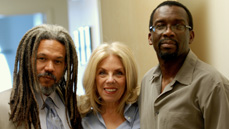 Llewellyn Smith

Producer/Director

Christine Herbes-Sommers

Producer

Vincent Brown

Associate Producer