The Film
Few modern political figures have been as controversial, outspoken and perhaps misunderstood as Imelda Marcos, the former first lady of the Philippines and the subject of award-winning filmmaker Ramona Diaz's Imelda. For the first time, Marcos tells her own story on film: how she rose from humble origins to become one of the richest and most powerful women in contemporary world history.
Universally known by her first name, or by her nickname, "The Iron Butterfly," Imelda Marcos is the widow of Ferdinand Marcos, the exiled president of the Philippines. The Marcoses ruled the Philippines for nearly 20 years after Ferdinand Marcos became president in 1965, declaring martial law in 1972 and maintaining close ties with the U.S. during their time in office. But over time, opposition to Marcos's regime grew in the 1980s. After a controversial vote count in Ferdinand Marcos's 1986 presidential run against Corazón Aquino — the widow of Marcos's slain political rival Benigno Aquino — a popular uprising forced the Marcoses from the Philippines to exile in Hawaii, where they lived until Ferdinand Marcos's death.
Imelda is told through exceptionally rare interviews with Marcos herself. Marcos is both vivaciously charming as she addresses the camera and perplexing as she expounds upon her personal cosmology, the corruption and human-rights abuse charges against her, and even her absurd collection of shoes.
Awarded a Sundance 2004 prize for excellence in cinematography, Imelda is a visually stunning look at one of the world's most reviled and revered women.
The Filmmaker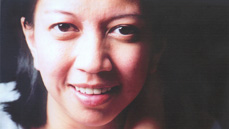 Ramona S. Diaz

Producer