The Film
Independent Spirits: The Faith and John Hubley Story looks at the creative partnership and careers of two Academy Award-winning animators. The Hubleys redefined animation, breaking from traditional styles, confronting important social issues, and using innovative graphics and experimental sound.
With their unique blend of intelligence, humor, and social commentary, Hubley films were made by animation artists whose ultimate goal was not to have the mouse escape the cat, but "to increase awareness, to warn, to humanize, to elevate vision, to suggest goals, to deepen our understanding of ourselves and our relationship to one another." Their non-traditional techniques — a blend of watercolor, wax crayons, multiple exposures, and lighting from beneath the camera — give the films a spontaneity, and emphasize the free-form graphic approach that has characterized the Hubley style.
Independent Spirits is also about the passion, spirit, and commitment of independent artists attempting to exist in a culture of compromise. The Hubleys' professional choices, even before their partnership began, reflected an intense commitment to political alternatives and a belief in social justice. This film looks at what each of them brought to their unique collaboration: John, an artistic brilliance nurtured at the Disney Studio; Faith, a deep respect for cultural diversity and a rebellious spirit formed in a tough New York City neighborhood. Both were committed to the belief that animation could deal with serious subjects and make a difference in the world.
Faith and John have left their mark on television advertising, children's television and feature films — but always, they returned to what they had promised each other in their marriage vows, "to make at least one independent film a year," a promise that Faith Hubley maintained after her husband's death in 1977 until her own passing in 2001.
The Filmmakers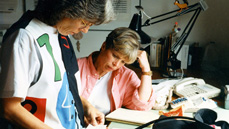 Sybil DelGaudio

Producer

Patty Wineapple

Producer