The Film
July '64 tells the story of a historic three-day race riot that erupted in two African American neighborhoods in Rochester, New York. On the night of July 24, 1964, frustration and resentment brought on by institutional racism, overcrowding, lack of job opportunity, and police dog attacks exploded in racial violence that brought Rochester to its knees. Directed by Carvin Eison and produced by Chris Christopher, July '64 combines historic archival footage, news reports, and interviews with witnesses and participants to dig deeply into the causes and effects of the historic disturbance.
In the 1950s, millions of African Americans from the Deep South packed their belongings and headed north in search of a better life. The city of Rochester, New York, with its progressive social justice history and a reputation for manufacturing jobs, drew people like a magnet. Between 1950 and 1960, Rochester's black population swelled by 300 percent. The city groaned under the weight of unprecedented growth. City fathers ignored newcomers' housing and education needs. The only openings for blacks at companies like Kodak and Bauch and Lomb, were "behind a broom."
On the night of July 24, 1964, what community leader and minister Franklin Florence calls the African American community's "quiet rage" exploded into violence. What began as a routine arrest at a street dance in a predominantly black neighborhood in downtown Rochester ended with the National Guard being called to a northern city for the first time during the era of the civil rights movement. The uprising, which later came to be known as the Rochester Riot, sparked a series of summertime riots in small- and mid-sized northern cities. As in many of those cities, the three days of unrest and civil disobedience in Rochester provoked actions and sentiments that reverberate to this day.
The Filmmakers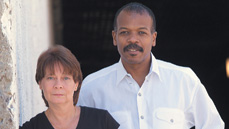 Carvin Eison

Director

Christine Christopher

Producer
Carvin Eison and Chris Christopher are directors of ImageWordSound, an independent production company. Together they produced two seasons of WXXI's Perfectly Clear — a weekly news and current affairs program. They also created The Home Show, a 12-part television series on affordable homeownership and home buying, with major funding from the Fannie Mae Foundation.