The Film
Behind America's dollar hamburgers and 72-ounce sodas is a key ingredient that quietly fuels our fast-food nation: corn. In King Corn, recent college graduates Ian Cheney and Curt Ellis head to rural Iowa, where they decide to grow an acre of the nation's most ubiquitous crop.
Alarmed by signs of America's bulging waistlines, the filmmakers arrive in the Midwest enthusiastic about their new endeavor. For their farm-to-be, they choose a tiny town in Floyd County, Iowa. They lease an acre of land from a skeptical landlord, fill out a pile of paperwork to sign up for subsidies, and discover the U.S. government will pay them 28 dollars for their acre. Ian and Curt start the spring by injecting ammonia fertilizer, which promises to increase crop production four-fold. With a rented high-tech tractor, they plant 31,000 seeds in just 18 minutes. Their corn has also been genetically modified for another yield-increasing characteristic: herbicide resistance. When the seedlings sprout from Iowa's black dirt, Ian and Curt apply a powerful herbicide to ensure that only their corn will thrive on their acre.
With their crop growing head-high, Ian and Curt leave the farm to see where America's abundance of corn ends up. As they enter America's industrial kitchen, they are forced to confront the realities of their crop's future. In Brooklyn, it sweetens the sodas of a diabetes-plagued neighborhood. In Colorado, it fattens 100,000 cattle at a feedlot. Ian and Curt are increasingly troubled by how the abundance of corn is helping to make fast food cheap and consumers sick, driving animals into confinement and farmers off the land.
The Filmmakers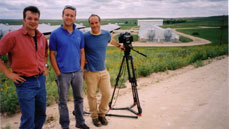 Aaron Woolf

Producer/Director

Ian Cheney

Producer

Curt Ellis

Producer
Co-Producers Ian Cheney and Curt Ellis became best friends at Yale. In college, Ian and Curt tried in various ways to reconnect students to their food, releasing sheep on the central campus, working to bring local foods into the dining halls, and taking incoming freshmen on orientation trips to organic farms. After graduation, Ian and Curt took a cross-country trip, and learned how little they really knew about the centerpiece of the American diet, corn. With Curt's cousin Aaron on board as director, the team moved to Iowa and started farming and filming in 2004.