The Film
There are seven million Jehovah's Witnesses in 230 countries worldwide. They spend 1.3 billion hours a year ministering door-to-door, making them one of America's favorite punch lines. Despite their 130-plus-year history, this Christian group is still often derided and misunderstood. Knocking opens the door on Jehovah's Witnesses, revealing how they have impacted society in ways far greater and more surprising than the spreading of their faith.
While protecting their own rights, Jehovah's Witnesses have won a record number of U.S. Supreme Court cases, expanding freedoms for all Americans. In Nazi Germany, they chose non-violence, landing them in the concentration camps instead of Hitler's army. They refuse blood transfusions on religious grounds, yet have significantly sdvanced the science of bloodless medicine. They are moral conservatives who stay out of politics. They attempt to persuade, but not impose their beliefs.
Knocking follows two Jehovah's Witness families who advocate for their controversial faith. Joseph Kempler was born a Polish Jew, but has been a Jehovah's Witness for nearly half a century. As the survivor of six concentration camps, he cursed God for allowing the Holocaust. After Joseph immigrated to the United States as a young man, a pair of Jehovah's Witnesses knocked on his door. He found a renewed purpose for God in their teachings and eventually converted.
Raised as a Jehovah's Witness, Seth Thomas lives in suburban Dallas. A genetic disorder has ravaged his liver and at 23, he requires a transplant to survive. His father is a donor match who can give half of his liver to Seth. But as Witnesses, neither will accept a transfusion. They struggle to find doctors willing to attempt the surgery without donor blood.
The Filmmakers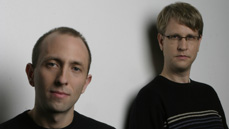 Joel Engardio

Producer

Tom Shepard

Producer