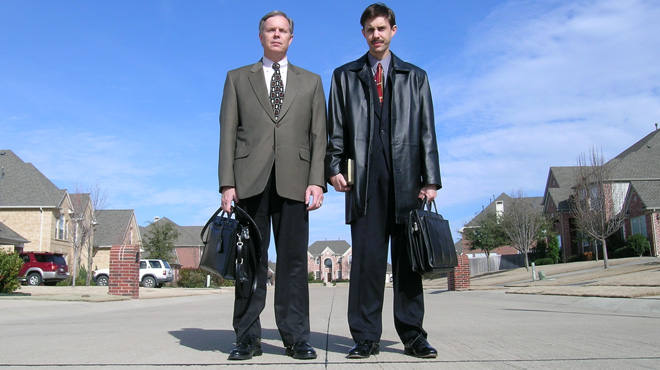 ITVS is proud to support Knocking with engagement and education materials in support of its national broadcast on Independent Lens on May 22, 2007.
Free Resources and Materials
Knocking was featured in ITVS's landmark Community Cinema program, producing community outreach screenings in 25 cities during May 2007. All screenings were conducted between 10 and 60 days prior to the film's scheduled national broadcast on Independent Lens. Post-screening discussions focused on religion, faith, civil liberties, and medical ethics. Knocking screenings welcomed over 1,600 community members to events across the nation, which included panel discussions with local faith leaders, civil rights leaders, and health care providers.
In Los Angeles, more than 280 community members gathered for the film and discussion, with half of the audience identifying as Jehovah's Witness. Religious scholar J. Gordon Melton offered insight into the Jehovah's Witnesses faith compared to other religions, giving the audience a historical and religious context for the film and issues. Other panelists included Fred Siegel, an elder in the Beverly Hills Jehovah's Witness Congregation; Eric Greene, ACLU policy advocate; and the head physician for the bloodless surgery program in Orange County. In Philadelphia, the National Constitution Center welcomed 200 community members, many of them Jehovah's Witness, to the event that included a conversation with director Joel Engardio, Daniel Mach of the ACLU's Program on Freedom of Religion and Belief, and Stephen Dunning, professor and chair of the Department of Religious Studies at the University of Pennsylvania.
ITVS produced companion discussion guides to support the screenings and for use by viewers at home; more than 10,000 were downloaded or distributed. More than 30 community-based and national organizations partnered with ITVS to engage audiences around this film.
Knocking is a featured collection in ITVS's Community Classroom program, offering short film modules and curricular materials that have been distributed to more than 1,000 educators to date, reaching more than 5,000 students and youth.