The Film
A rebel and innovator, pop singer Lupe Yoli, otherwise known as La Lupe or La Yiyiyi, was renowned for her emotional performance style. Her renditions of classics such as "My Way," "Fever," and "Going Out of My Head" were famous worldwide. But the legendary Cuban-born star was also a single mother of two, a survivor of domestic abuse, and a Santera who later became an evangelist Christian speaker. La Lupe Queen of Latin Soul tells La Lupe's story through character-driven interviews in first-person anecdotes, in an oral history much like those found in a folk ballad or a bolero.
Shot in New York City, Miami, Havana, and Puerto Rico, La Lupe evokes two groundbreaking cultural periods through interviews and rare archival footage: pre-revolutionary 1950s Havana and the burgeoning Latin music scene in New York City in the 1960s and 1970s. The film begins with La Lupe's funeral in 1992 — attended by fans, family and the whole of New York's Latino music aristocracy — and follows her from poverty to celebrity and back again.
A long-time gay icon who was often described as the first performance artist, La Lupe was ahead of her time. In trying to discover who Lupe was, La Lupe also provides a collective portrait of mid-20th-century Latin musical history.
The Filmmaker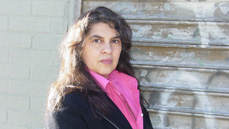 Ela Troyano

Producer