The Film
More than 30,000 people have been killed in Colombia's bloody civil war, in which left-wing guerrillas continue to fight against the government and illegal right-wing paramilitary groups.
The 40-year-old conflict has slowly spread from the jungles to cities such as Medellín — where urban gangs aligned themselves either with guerrillas or paramilitary groups — and transformed the national conflict into a brutal turf war, pitting adjacent barrios against each other. La Sierra explores a year in the life of one such barrio, the hillside community of La Sierra, through the eyes of three of its young residents.
Filmmakers Scott Dalton and Margarita Martinez achieve an astonishing proximity to this world, taking us into the hills with the paramilitaries; inside homes, where worried parents and girlfriends tend to the young men's babies, trying not to think of the inevitable; and into the jailhouse, where the women of La Sierra visit their husbands, brothers, and boyfriends.
Over the course of a year, the film's subjects, their families, and their friends undergo profound changes before the camera — experiencing victory, despair, death, love, and hope. The result is a frank portrayal that includes not only startling violence, but also intimate moments of love and tenderness, showing the everyday life that amazingly manages to co-exist in a state of constant uncertainty.
The Filmmakers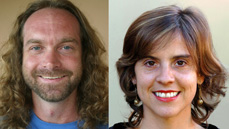 Scott Dalton

Producer/Director

Margarita Martinez Escallon

Producer/Director