The Film
Lakshmi was employed as a domestic worker in the home of documentary filmmaker Nishtha Jain in Mumbai, India when she was only 16 years old. But it wasn't until Lakshmi was 20 that Jain enjoined her young maid to come out from the shadows and step in front of the camera's lens. Lakshmi readily agreed to the idea. "My life really deserves a film," she says.
Thus begins an on- and off-screen journey for Lakshmi and Jain. Lakshmi and Me is an intimate yet critical look at the bond between an employer and domestic worker in modern-day India, where one's status, relationships, and livelihood are often still ordained by the ancient caste system.
As an emerging international powerhouse, India's millions of upwardly mobile, professional women are freed from housework and domestic chores. No longer do they have to dust, sweep, do laundry, cook, or even walk their children to school. Why? These new professionals have a bai, or woman to help with some of these chores — a woman who comes from a less privileged class.
Lakshmi and Me is a story about lines blurring and lives colliding, despite the rigidity of archaic traditions meant to keep them apart. The filmmaker enters her subject's world, only to question the legitimacy of her own attitudes; the film's subject is empowered by the light shone on her in the filmmaking process. At the end of their remarkable year-and-a-half-long journey together, both women are forced to question that which they've taken for granted, while acknowledging the symbiotic roles of mistress and maid, subject and filmmaker, speaker and listener.
The Filmmakers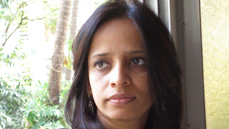 Nishtha Jain

Director

Smriti Nevatia

Producer