The Film
The Last Cowboy follows 23 years in the life of Vern Sager, a real American cowboy in one of the most isolated places in America. Out on the range with temperatures so extreme a herd can freeze overnight, Vern faces an army of adversaries: cattle rustlers, international agribusiness, old age, the weather, and the wanderlust of his own family.
The Sager family owns a ranch in Porcupine, South Dakota, in the middle of the Pine Ridge Indian Reservation, located in Shannon County, the poorest county in America. Unemployment (around 80 percent), disease, and lack of education produce a discouraging statistical profile.
The camera catches Sager up at 3 AM on a February morning, when the temperature is 20 below zero, as he tries to keep the new calves from freezing to death. "Somehow, they all want to have their babies on the coldest day of the year," he says.
FIlmmaker Jon Alpert follows Sager as he toils under the August heat, a merciless drought squeezing the life out of his crops and cattle, and battles with the commodity brokers who fix the prices and somehow every year walk off with most of the cowboy's "profits." It is a difficult life and if Sager weren't such a hard worker, he'd have been forced to live off the farm a long time ago. All of Sager's kids have moved to town except for Mark, a former rodeo champion who fell in love with a Native American woman (and her four kids) and married her, transforming the Sagers into a "Cowboy/Indian" family. The Last Cowboy captures the character, courage, strength, and stubbornness of Vernon Sager, and documents the Sager family's battle to maintain its way of life.
The Filmmaker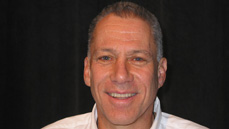 Jon Alpert

Producer