The Film
A fascinating portrait of one man's life and work, Life Matters is also a personal story — a film by Kyle Boyd about his father, Curtis. Raised on a farm outside of rural Athens, Texas, Curtis Boyd was voted "Most Courteous Boy" by his high school class. He worked hard and maintained straight A's while preaching at his local church. After college he earned his medical degree and opened a family practice in his hometown. With his wife and three small children, Dr. Boyd was the pride of the community.
But then came the 1960s. Boyd was approached by a group of compassionate religious leaders from many denominations who were concerned about the dangers of back-alley abortions. The group provided referrals to counseling services and doctors who were willing to provide abortion services. While Boyd was hesitant to become involved in something that was clearly illegal, he felt it imperative to provide assistance. Boyd risked imprisonment and loss of his medical license, and as the demand for his services grew, he was unable to keep his involvement secret. Town gossip, death threats, and bomb scares eventually forced him to leave his hometown and relocate his practice to Dallas.
When the Supreme Court legalized abortion in the landmark Roe v. Wade decision in 1973, Boyd thought the worst was behind him. But only then did the most serious harassment begin. His clinic has been the target of multiple arsons, and is a favorite of Operation Rescue protests and activity.
In telling this personal story, Kyle Boyd uses extensive interviews with both of his parents, home movies, and testimony from his father's patients, co-workers, contemporaries, and clients. Eschewing the combative rhetoric surrounding the issue of abortion, Life Matters introduces us to a man whose convictions were unshakable and whose life mirrors the myriad paradoxes of his time and place.
The Filmmaker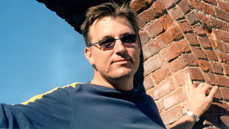 Kyle Boyd

Producer