The Film
A Lion in the House follows the stories of five exceptional children and their families as they battle pediatric cancer. From the trauma of diagnosis to the physical toll of treatment, this series documents the stresses that can tear a family apart as well as the courage of children facing the possibility of death with honesty, dignity, and humor. As the film compresses six years into one narrative, it puts viewers in the shoes of parents, physicians, nurses, siblings, grandparents, and social workers who struggle to defeat an indiscriminate and predatory disease.
This unprecedented portrait of pediatric cancer's life-altering effects introduces 7-year-old Alex, a bundle of energy with dark eyes and curls; and Tim, a mercurial, quick-witted 16-year-old with a thousand-watt smile. Justin is amiable and stalwart at 19, despite 10 years of fighting the disease. Jen is a serious, quiet 6-year-old and Al is a quicksilver, wry 11-year-old.
Each child has a unique experience in confronting the disease and the treatment, but each embarks on a journey that is bewildering, terrifying, nearly unbearable, and certainly quite unlike anything most people associate with a normal childhood. The families of the children join them on their harrowing odyssey, and regardless of outcome, no one involved will ever be the same again.
The Filmmakers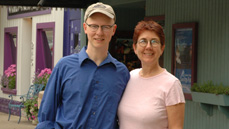 Julia Reichert

Producer

Steve Bognar

Producer