The Film
After the loss of his parents, filmmaker David Fisher feared that his tightly knit family was growing apart. Born and raised in Israel, the Fisher siblings — three brothers, one sister — were grappling with common concerns of families everywhere: divorce, child-raising, job pressures, emotional problems. Bittersweet, honest, and touchingly funny, Love Inventory chronicles Fisher's attempt to solve a personal mystery — uniting his troubled family in the process.
As Fisher and his siblings sift through family papers after the death of their father, a long-buried secret rises to the surface. For years, their mother had mentioned that her first children had been twins, a boy and a girl, but that the girl had disappeared shortly after birth. The Fishers knew they had an older brother who had died after only a few months, but were uncertain what to make of the stories about the missing twin. Did she die in infancy as well, and if so, where was she buried? Or could she even still be alive, unknowingly living in the same city? What would she look like — and what happened to her?
Fisher enlists the help of his siblings in solving this mystery, hoping to help heal his family as well as bring it closer together. Trekking through graveyards, fighting against time and bureaucracy, and poring over decaying volumes of death records and hospital archives, the Fishers slowly begin unlock and unravel the past, looking back half a century to Israel's own difficult birth. By galvanizing his siblings in a search for truth, Fisher uncovers a family fighting for its own existence in this highly unique and intimate personal documentary.
The Filmmakers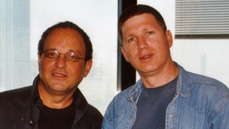 David Fisher

Director

Yahaly Gat

Producer