The Film
Made in L.A. is an Emmy Award-winning feature documentary that follows three Latina immigrants working in Los Angeles garment sweatshops as they embark on a three-year odyssey to win basic labor protections from trendy clothing retailer Forever 21. In intimate observational style, Made in L.A. reveals the impact of the struggle on each woman's life as they are gradually transformed by the experience. Made in L.A. is a story about immigration, the power of unity, and the courage it takes to find your voice.
Lupe Hernandez, a five-foot tall dynamo who learned survival skills at an early age, has been working in Los Angeles garment factories for more than 15 years since she left Mexico City at age 17. Maura Colorado left her three children in the care of relatives in El Salvador while she sought work in L.A. to support them. María Pineda came to Southern California from Mexico in hopes of a better life at 18, with an equally young husband. They all suffer wretched conditions, low pay, and long hours.
These three women, along with other immigrant workers, come together at L.A.'s Garment Worker Center to take a stand for their rights. Against all odds, these seemingly defenseless workers launch a very public challenge (a lawsuit and a boycott) to one of the city's flagship clothiers, calling attention to the dark side of low-wage labor north of the U.S.-Mexico border and revealing the social fault lines of the new globalization.
The Filmmakers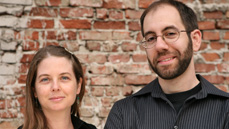 Almudena Carracedo

Producer/Director

Robert Bahar

Producer