The Film
Travis, Nick, and Cody have been friends almost all their lives, growing up on the Swinomish reservation in northwest Washington. When they find themselves in trouble with drugs and alcohol, the teens are offered an opportunity to participate in Native Lens, Longhouse Media's filmmaking program. Figuring it's better than spending afternoons in drug court, they dream about making a film with car crashes and rap music. But they are asked to make a documentary about the impact of two oil refineries on their tribal community instead.
March Point filmmakers Tracy Rector and Annie Silverstein bring together filmmaking and alternative education through their collaboration with the three young Native Americans. The film assignment sends the boys down a path of historical investigation.
The boys learn that the people now known as the Swinomish flourished on the bounty of the coast of the Pacific Northwest for thousands of years. Clams, crab, and fish were plentiful, and as the tribal saying goes, "When the tide's out, the table's set." But when Shell Oil built two refineries in the 1950s, on land once owned by the tribe, chemicals made their way into the water, tainting the seafood and shellfish that the Swinomish eat daily. Meanwhile, poverty, drugs, and alcohol have seeped into the lives of the families who live there. Ambivalent at the onset of the filmmaking venture, the boys awaken to the destruction these refineries have wrought in their communities. As the grapple with their assignment, they begin to experience the need to understand and tell their own stories and to grasp the power of this process to change their lives and give back to their community. March Point follows the boys' journey on their path from childhood to adulthood as they come to understand themselves, their history, and the environmental threat to their people.
The Filmmakers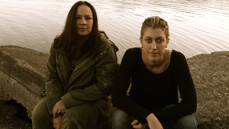 Annie Silverstein

Producer

Tracy Rector

Producer
Tracey Rector and Annie Silverstein are the founders of Longhouse Media and its flagship project, Native Lens, which teaches media literacy and media production to indigenous communities.