The Film
Milking the Rhino examines the deepening conflict between rural Africans and animals in the ever-shrinking African wilderness.
Decades ago, the creation of Africa's national parks and vast game reserves forced out thousands of indigenous people who had coexisted in harmony with wildlife for millennia on a land without borders. The "fences and fines" approach to preserving wildlife disrupted traditional lifestyles, making the wildlife refuges and parks the property of the "white man" and turning ordinary food gathering into a criminal act.
Exploring wildlife conservation from the perspective of the indigenous people, Milking the Rhino presents the struggle of two traditional cattle-herding cultures: the Maasai tribe of Kenya and the Himba tribe of Namibia. Both find themselves clashing with the myth of "wild Africa," which brings millions of tourists to the continent every year, particularly because the wildlife that draws these visitors competes for grazing land with the tribes' domestic cattle.
The film follows the parallel tracks of both tribes (who live on opposite sides of the continent) as they consult with NGO field workers and social entrepreneurs at the village level. The advisors are charged with convincing bush-dwelling Africans to adopt community-based conservation (CBC), a new way of co-existing with wildlife that gives the tribes a piece of the economic pie and paves a path towards self-sufficiency. CBC is touted by conservationists as a win-win situation, but the reality is more complex — especially when an eight-year drought tests the tribes' commitment.
Milking the Rhino offers complex, intimate portraits of rural Africans at the forefront of community-based conservation — a revolution that is turning poachers into preservationists and local people into the stewards of their land.
The Filmmakers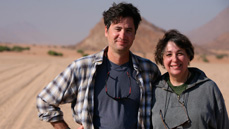 David E. Simpson

Producer/Director

Jeannie R. Magill

Producer