The Film
As Hurricane Katrina bore down on New Orleans, the mayor issued a last-minute order for everyone to evacuate. In the clamor to get out of the city, many pet owners left their animals with food and water, fully intending to return in a few days.
The result was that tens of thousands of domesticated pets were left in a devastated city. Those that survived the storm and the floods faced grim odds of surviving the heat, without fresh water or enough food to last the weeks or months before their owners were permitted back into the city to rescue them. Mine follows some of the hundreds of volunteers who mobilized in the hours and days after the storm, entering the city and capturing as many stranded pets as they could find. These volunteers often provided lifesaving medical care to the injured, dehydrated, and hungry animals. Massive temporary animal shelters sprung up in the suburbs of New Orleans, where the lucky pets who survived waited to be reunited with their owners or adopted out.
Rescue groups went about trying to find homes for the pets in their care, sometimes erroneously designating them as "owner surrender" or "stray." People around the country opened their homes to Katrina dogs and cats, giving them loving homes and bonding with them. But many displaced pet owners were conducting tireless and frantic online searches for their lost pets, often feeling overwhelming amounts of helplessness, grief, and guilt for having had to leave them behind. No comprehensive system for reuniting Katrina pets and owners ever existed.
In the fraught cases of the rescued pets and people portrayed in Mine, the original owners' fight to get their animals back forces us to ask what makes a pet "ours." Is love enough?
The Filmmakers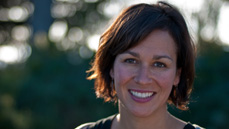 Geralyn Pezanoski

Producer/Director

Erin Essenmacher

Producer