The Film
Mirror Dance is the story of Cuban-born identical twins Ramona and Margarita de Saá, who become estranged by politics when one moves to the United States and the other remains behind. Though separated for almost 40 years, both continue to share a passion for dance. Shot in the United States and Cuba over a period of four years, the film reveals some of the complexities of the sisters' relationship: the worlds in which they live, the choices each has made and the conflicts each has endured. Set within the context of the turbulent dynamic between the two countries, Mirror Dance focuses on the twins' story of division, difference and ongoing efforts at reconciliation. It is a universal story that speaks to the personal pain, loss and waste that can result from international hostilities.
In the film, Margarita reflects, "When I left Cuba I didn't just lose my biological family, I lost something very special to me — the National Ballet of Cuba. I lost two families." Despite pouring her heart into her work and trying to create a new ballet family in the United States, she remains haunted by memories and loss.
In Cuba, the film follows Ramona in her routine as the sole woman who determines the fate of every aspiring dancer in the country, and viewers experience the all-encompassing, government-endowed National School of Ballet.
Finally, on February 28, 2004, Margarita, her husband, John, and her daughter, Melinda, depart for Havana. In a touching scene at José Martí Airport, Margarita, Ramona and their brother, Jovito, are finally reunited.
Still, the short visit between the twins is guarded. On Margarita's last day in Havana, a visit to their parents' grave helps the twins put the loss of the past 40 years into some perspective.
The Filmmakers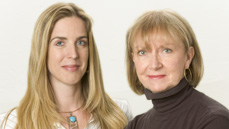 Frances McElroy

Producer

María Teresa Rodríguez

Producer