The Film
In the disturbingly near future, Venice is submerged, Canal Street in New York City has become a real canal again, and it's 87 degrees in December in Boston. Catastrophic global warming has moved from theory to fact. At the Biosphere Climate Change Expo, undersecretary for the Department of Global Warming Mason Park (Tim Kang) informs the crowd of scientists and activists that the tipping point has passed, and that they are all at fault.
He tells them that the scientists of the world failed to create the necessary pressure, which would have allowed for the political changes needed to confront global warming. Now the Department of Global Warming has been defunded, drying up research money for climate initiatives.
That night at the hotel bar, Park runs into Dr. Gloria Holtzer (Betty Gilpin), a former graduate school classmate, and one of the scientists who will be losing her grant money. Park blames himself for failing to prevent the climate catastrophe in time, but finds comfort in Holtzer's arms. However, she has an ulterior motive. Park awakens in the morning and soon realizes that everything has changed.
Holtzer's ecotech company has developed an entirely new way to confront the challenge of catastrophic global warming — by changing the very nature of the human race itself. And Park has become a very powerful test subject.
Mister Green is a parable about change — both personal and political.
The Filmmaker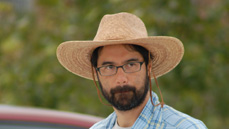 Greg Pak

Director