The Film
When the United States invaded Afghanistan in October of 2001, Afghan hopes were high that democracy would bring enormous progress for Afghan women in the arena of health and education. But as of 2006 one of their most fundamental rights — adequate health care — has not been met.
In Motherland Afghanistan, Afghan American filmmaker Sedika Mojadidi journeys to the heart of this medical tragedy by following her father's return to Afghanistan to battle one of the highest maternal mortality rates in the world. Dr. Qudrat Mojadidi is an OB/GYN who was forced by political pressures to emigrate from Afghanistan to the U.S. in 1972. In 2003, nearly two years after the Taliban's fall, he is invited by the U.S. government to help rehabilitate the largest women's hospital in the country, Rabia Balkhi, now under U.S. sponsorship with a newly renamed Laura Bush Maternity Ward. He returns to his homeland with great hopes that with U.S. funding, he can help set in motion the large-scale changes necessary to stem the epidemic of maternal mortality in the country.
But when Dr. Mojadidi arrives at the Laura Bush Maternity Ward in Kabul, a city still plagued with danger and unrest, he finds deplorable conditions, with limited supplies, and unsanitary facilities. As he tries to bring hope to the ward and make the best of archaic equipment and untrained staff, the film introduces the women behind the statistics and exposes how the U.S. government's Department of Health and Human Services has impacted Afghan lives, particularly in terms of the devastating epidemic of maternal mortality.
The Filmmakers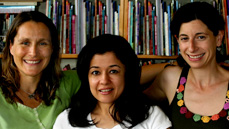 Catherine Gund

Producer

Sedika Mojadidi

Producer/Director

Jenny Raskin

Producer